While some appliance repair companies focus only on servicing the most common appliance brands, All Boro Refrigeration, Inc. is pleased to be able to extend our work to include high-end Sub-Zero refrigerators. Our professionals have the hands-on training and experience to bring you expert Sub-Zero refrigerator repair with cost-effective pricing. At All Boro Refrigeration, Inc., our goal is to make sure that all of our customers get the first-class Sub-Zero refrigerator service and fair pricing they deserve. So if you've been experiencing a malfunction with your Sub-Zero fridge, our team is standing by to help.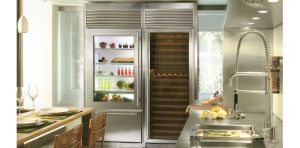 At All Boro Refrigeration, Inc., we understand that your Sub-Zero refrigerator is an investment. You don't want to just throw in the towel and haul your refrigerator off to the dump when it malfunctions. That is why our team of Sub-Zero refrigerator repair specialists is available 24/7 to provide you with affordable, effective solutions to all of your Sub-Zero refrigerator problems. In all but the most extreme cases, refrigeration repairs are far more affordable than appliance replacement, so let our professionals help you save big with our repair expertise.
Malfunctions happen even with the best refrigerators, but the solution is often a surprisingly easy fix. If you've noticed leaks, noises, or performance problems with your Sub-Zero, contact the All Boro Refrigeration, Inc. team today. We provide precision refrigerators repair when your Sub-Zero fridge:
Is not cooling effectively
Feels warm inside
Makes loud, disruptive, or otherwise unusual noises
Seems to be leaking
Has malfunctions with the lights
Is experiencing a performance issue of any kind
Our professionals are available for both standard Sub-Zero refrigeration repairs and refrigerator freezer repairs, so no matter which part of your unit is acting up, we can help.
When you contact the professionals at All Boro Refrigeration, Inc. for quality Sub-Zero refrigerator service, we will begin by expertly troubleshooting to determine the cause of the problem. Once we've pinpointed the source of the issue, our technicians will use only quality parts and approved tools to complete your Sub-Zero refrigerator repair. And soon your refrigerator will be back to working its best. We're here to make sure that even high-end services like Sub-Zero refrigeration repairs aren't beyond the reach of your budget. So if you find yourself looking for help with a Sub-Zero in New York, you can't go wrong with our pros. Learn more when you call or e-mail us now.
Sub-Zero Sales and Install
If your Sub-Zero is broken beyond repair, or you find that you are in the market for a new unit, All Boro Refrigeration, Inc. will be happy to help. In addition to our Sub-Zero refrigerator repair service, we can order 32-, 36-, or 48-inch models to suit your needs. Once the fridge is delivered to your home, our refrigerator installation team will arrive to make sure that your new unit is set up properly. You can rely on us for thorough, accurate refrigerator installation, from connecting your Sub-Zero to the water supply and making sure the dispensers function correctly to properly leveling the appliance to ensure maximum performance and appearance. For more information, contact us by phone or e-mail. Our licensed, bonded, and insured refrigerator installation specialists will be happy to answer any questions that you may have.