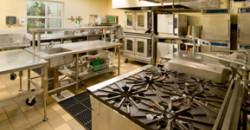 Has your trusty refrigerator been keeping you up at night with its loud moans and groans? Has your ice cream turned to mush, while your milk is accented with ice crystals? When you're in need of Frigidaire refrigerator repair, look no further than All Boro Refrigeration, Inc. We're your source for effective Frigidaire refrigerator service at fair prices throughout New York City. Whether you need help locating the source of a leak or you simply need to replace a bulb that has burned out, All Boro Refrigeration, Inc. can help you solve all of your Frigidaire refrigerator problems. Call or e-mail us to learn more now!
All Boro Refrigeration, Inc. has proudly provided residential and commercial customers in New York with comprehensive Frigidaire refrigerator service for over 50 years. You can rely on us to put our extensive knowledge and hands-on experience to work for you, creating lasting solutions to all of your Frigidaire refrigerator problems, no matter what the magnitude.
Our Frigidaire refrigerator repair specialists have the skills and know-how to work on a variety of Frigidaire models, including:
Traditional top-freezer units
French door units
Side-by-side units
Compact units
All-refrigerator units
Whether you have an apartment-sized fridge or 22 cubic foot side-by-side model, you can rely on our expert Frigidaire refrigerator service to restore your appliance to top-notch condition.
At All Boro Refrigeration, Inc., we pride ourselves on our dedication to quality craftsmanship and customer service. Your satisfaction is our top priority, which is why we strive to keep the quality of our Frigidaire refrigerator service high, and our prices low. It is our goal to ensure that all of our customers can afford the effective, professional Frigidaire refrigerator repair they deserve. In addition, we back all of our repairs with parts and labor warranties, so you can rest easy knowing that our Frigidaire refrigerator repair solutions will keep your refrigerator running in prime condition well into the future.
As a family-owned company, we understand the urgency of finding a solution to Frigidaire refrigerator problems. Left unchecked, fridge malfunctions can cause food spoilage, high energy bills, and even property damage. These are costly consequences of Frigidaire refrigerator repair issues that typically have relatively simple fixes. When you are faced with Frigidaire refrigerator problems, no matter how large or small, you can't afford to put off repair. That is why the team at All Boro Refrigeration, Inc. is available 24/7, to provide you with the expert guidance and Frigidaire refrigerator service you need, when you need it most. If you're looking for an answer to your Frigidaire refrigerator problems, don't hesitate—call All Boro Refrigeration, Inc. to schedule an appointment today!