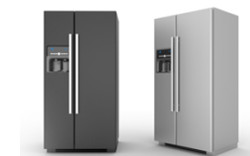 Many people run straight for the appliance section of the nearest department store as soon as they realize that they need refrigerator repairs. But for all your fridge does for you—making ice; freezing food; keeping meats, vegetables, and other perishables fresh—the least you can do is give it the benefit of attention from refrigerator repair technicians before replacing it. If your unit is giving you trouble, make the smart decision: Call All Boro Refrigeration, Inc. before you head to the appliance store. It may only take a few simple refrigerator repair parts to have your appliance humming and cooling like a champ again!
Some reasons to choose refrigerator repair over replacement include:
Cost – With rare exception, refrigeration repair is less expensive than paying for an entirely new unit. After all, refrigerator repair parts cost a fraction of the amount of the whole appliance.
Convenience – The whole process of buying an appliance is time consuming and, at times, intimidating. You have to worry about unit size, energy consumption rates, installation… the list goes on and on. When you choose refrigerators repair, our specialists will keep you informed while delivering fast results so you don't have to go one minute longer than necessary without a properly working fridge.
Service – All Boro Refrigeration, Inc. has over 50 years of experience providing refrigeration repair to the residents and business owners of New York City. You can rely on us to put that experience and skill to work for you, providing custom refrigerator repairs and a thorough dedication to your satisfaction that you just won't find in an appliance showroom.
Specializing in maintenance and installation for high-end domestic refrigerators, our technicians are available to perform a variety of refrigeration repair tasks, including:
Refrigerator ice maker repair
Refrigerator freezer repair
Door seal replacement
Motor, condenser, and evaporator service
Refrigerant replacement and leak repair
Door switch repair and replacement
Fan repair
And many more
We can be your answer for everything from a broken refrigerator light to ice crystals in your milk. All Boro Refrigeration, Inc. is your source for high-quality Maytag refrigerator repair, Wolf refrigerator repair, and much more. We are fully licensed, bonded, and insured for refrigeration repairs, and our experts have the kind of training and knowledge that you simply can't get from a refrigerator repair manual. At All Boro Refrigeration, Inc., we provide every customer with the same professionalism and accuracy that we'd expect for our own homes.
Quick action is certainly a major factor when it comes to successful refrigeration repairs, so if you've noticed that your fridge is not reaching the right temperature, is making odd noises, or is giving you any other reason to believe that it needs professional attention, call right away. Our professional refrigerator repair team is available 24/7, ready to assist you when you need us most.
Refrigerator Installation
In addition to our comprehensive refrigerator repairs, All Boro Refrigeration, Inc. is also available to install your new refrigerator. Contrary to popular belief, installing a refrigerator is not as simple as plugging your refrigerator into the wall outlet. In fact, if you plug the refrigerator in too soon, it could damage the internal parts of the appliance. Our refrigerator installation specialists will take the appropriate measurements of the space where your refrigerator will be installed to ensure that your new appliance receives proper air circulation. We will make sure that the fridge is moved carefully, taking precautions against superficial damage to the outside of the refrigerator, as well as your walls and floor. Once the refrigerator is in place, our contractors will properly level the unit to ensure maximum performance and aesthetics. We will connect your refrigerator to the water supply, making sure that all features function properly before completing your refrigerator installation. If necessary, we can even reverse the doors and/or panels. If you need to install a refrigerator, and want to make sure that the job is done right the first time, All Boro Refrigeration, Inc. is the team to have on your side. Call or e-mail us for a free estimate today!